From Donald Douglas:
This is an unbelievably ridiculous piece, from Erna Paris, at Toronto's Globe and Mail, "There *are* limits to free expression."

And from the comments:

Hate speech is less prevalent in Canada today because Canadians don't like it and don't want it, not because of any law. Canada is not a more fragile place than in 1990; it's a much, much stronger and more tolerant place. The bizarre fear-mongering in this opinion piece is not only logically incoherent, it's completely unjustifiable.

Via Scaramouche.
Dr Douglas' piece was fairly brief — I quoted the entire post here, because I know I can get away with it with Dr D
— but the article he referenced is longer, and I'd like to look at it in a bit more depth. The author, Erna Paris, begins:
The right to free speech is one of the most important democratic freedoms. It enables the flow of information and encourages diversity of opinion in the public sphere, as well as criticism of political leadership, all of which are in the public interest. But like most freedoms, it is not absolute, nor should it be.
If freedom of speech does the things the author has claimed are in the public interest, would it not be against the public interest to restrict the flow of information, diversity of opinion and criticism of the political leadership? That, after all, would be some of the effects of limiting the freedom of speech.
Of course, limiting the diversity of opinion is exactly what Miss Paris wishes. While I'm certain she would not wish to put it precisely that way, what she wishes to do is limit the diversity of opinion to exclude what she would see as animosity toward various groups of people, based on race or religion or ethnicity or sexual preference or whatever new group discrimination might come to our thoughts as time passes. The government cannot control what people think — though if it could, one wonders if Miss Paris would advocate employing such controls — but if it can restrict the communication of disfavored ideas, perhaps it can eventually eliminate those ideas themselves.
European countries without our (Canadian) tradition of upholding anti-hate laws, and without a history of ethnic pluralism, have had a much harder time coping with growing diversity. Only the United States allows almost unmitigated speech, but some legal scholars, such as Jeremy Waldron of New York University, are beginning to believe that America should align itself with the rest of the world's liberal democracies -– countries that, in his words, "take affirmative responsibility for protecting the atmosphere of mutual respect against certain forms of vicious attack."
Perhaps it is because of our "history of ethnic pluralism," but it is in the United States, with our "almost unmitigated speech," in which we have a black President, and almost certainly would have had a woman President if the black candidate had not defeated the female candidate in their party's primaries. It is in the United States where we have black representatives representing majority white districts, where we have a state governor of Indian descent elected in a state with very few ethnic Indians¹, and a black governor elected in a state with just 6.6% of the population being black.² Yet somehow, some way, these things happened despite our constitutional protections which allow what Miss Paris called "almost unmitigated speech."
One of the things I find curious is how our friends on the left — and Miss Paris, though a Canadian, not an American, certainly comes from the political left; you can peruse her articles on her website — have moved from the position they held in the 1970s of being very much in support of absolute freedom of speech, connected with the protests against American involvement in the war in Vietnam, to one in which the freedom of speech must be restricted, for the common good. Freedom of speech, some of our friends on the left tell us, should not include corporations, even though the First Amendment clearly states that "Congress shall make no law respecting an establishment of religion, or prohibiting the free exercise thereof; or abridging the freedom of speech, or of the press; or the right of the people peaceably to assemble, and to petition the Government for a redress of grievances." The First Amendment does not allow for exceptions, nor does it somehow state that the freedoms guaranteed therein apply only to living persons.  I'd note here that the police actions against the fleabagger "Occupy" demonstrators are all occurring in cities politically controlled by the Democrats.³
And now we have the curious phenomenon of our friends on the left telling us that criticism of President Obama is really an expression of subtle racism, and concomitantly telling us that support for Republican presidential candidate Herman Cain, who is black, is a "token black guy," and is really an attempt to hide Republican racism; Pam Spaulding even referred to Mr Cain as "shamelessly tap dancing for conservative white voters," and "Steppin Fetchit," though she used the literary device of attributing the latter description to a cousin writing on her Facebook page.  We have, in effect, the attempts of our friends on the left to stifle criticism of President Obama, by stigmatizing it as racism, while making attacks on Mr Cain that are racist in nature.  One wonders if, had Miss Paris her wish and our Constitution barred "hate speech," whether criticism of President Obama would be barred as hate speech, while that of Mr Cain would be allowable debate.
If that seems like a strange construction to you, remember: if the freedom of speech is restricted in the manner Miss Paris advocated, such restrictions would still be subject to the definitions and determinations of politicians as to what was allowable and what qualified as hate speech.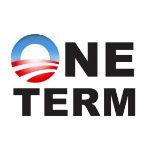 The real problem for Barack Obama and our friends on the left is that they have gotten their wish: he is being judged not on the color of his skin but on his job performance as President of the United States. In 2008, he received an absolute majority of the votes cast, 52.92%, 69,456,897 votes,4 and his post-inaugural job approval ratings started out much higher than that.5 The vast majority of Americans were willing to give him a chance, to see how good a job he'd do. He lost their support not because he's (half) black, but because he simply hasn't done a good job. Even President Obama himself admitted that, "I don't think [Americans are] better off than they were four years ago."
And now a majority of Americans say that President Obama bears responsibility for the state of the U.S. economy. That's not a judgement based on race; that's a judgement based on job performance. For our friends on the left, the terms of the debate simply have to be changed; if it stays on job performance, Mr Obama is a one-term President. They want to change it to blaming it on race, where they think/ hope/ pray that they might do better, hoping for a discussion in which only one side can participate, while the other is shamed into silence. And thus we thank God for the wisdom of the Framers and the Bill of Rights.
The simple genius of the Framers of our Constitution and the Bill of Rights becomes more apparent with virtually every passing day. We can read almost daily about some new proposal from our friends on the left to restrict our freedoms, for the good of all, for the benefit of society, yet the simple use of the words "shall" or "shall not," the imperative forms, in the first nine amendments to our Constitution protect our rights from all sorts of well-meaning (?) mischief by our friends on the left.
__________________________
¹ – Governor Bobby Jindal, R-LA, who won re-election just a few days ago by winning a majority of the votes in Louisiana's open-primary electoral system. "Indian" refers to India, from where his parents emigrated, not American Indians native Americans.
² – Governor Deval Patrick, D-MA
³ – Oakland, California, is simply the most obvious example; that's where demonstrator Scott Olsen suffered a fractured skull from a tear gas canister fired by the police. Demonstrators were also arrested in Portland and Denver, both of which are governed by liberals; Portland's mayor is a Democrat, while the Denver city government is officially non-partisan, but primarily Democratic.
4 – Federal Election Commission, 2008 Official General Election Results.
5 – The Gallup Daily Tracking Poll showed President Obama having a 68% Job Approval Rating, with only 12% disapproving, on January 21-23, 2009. Use the cursor on the graph to get any specific date's results.